Seasonal Allergies, Seasonal Trends
Achoo!
Sneezing, itchy eyes, runny nose, scratchy throat. It's that time of year-allergy season is in full swing. Feeling a little more like one of the Seven Dwarfs (Sneezy comes to mind) lately? If you're a seasonal allergy sufferer, fret not-you are not alone. It looks like there is a seasonal symphony of sneezing that's as predictable as pollen. Having taken just about every allergy medicine on the market, I chose three at random Benadryl.com, Nasonex.com, and Claritin.com.

As allergen counts increase, people flock to the web seeking relief. Pollen picks up in early spring around, decreases during the summer as the heat increases and then picks back up with ragweed in late summer through fall. Web traffic to these allergy hot spots ebbs and flows along with the allergens in the air as you can see by the chart below.
While allergy sufferers reach for medicinal relief, sometimes what's in the air is too strong to stand up to the strongest allergy medicines. Even tissues get into the seasonal allergy act!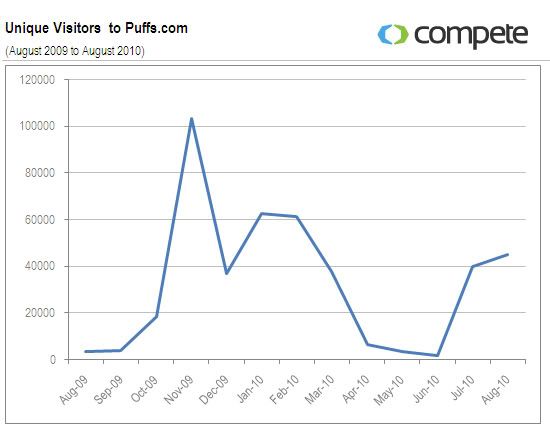 Puffs.com sees two major spikes-one for cold and flu season and another for seasonal allergies. If you're an allergy sufferer, hang in there-if web trends correlate to allergens in the air, sweet relief is on the way! Until then, breathe easy and gesundheit!

As the Online Marketing Specialist at Compete, Karen Costa specializes in the day-to-day online marketing functions for Compete.com-paid search, email marketing, social media, affiliate, etc. Before Karen joined the Compete team she was an online marketing coordinator for Bliss Spa and then worked for a couple of start ups. Karen says, "I'm not sure what I want to be when I grow up!" Find Karen on Twitter as vanillabean45 or connect with her on LinkedIn at http://www.linkedin.com/in/karencosta