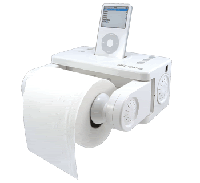 The iPod. What can we say about the leader in portable digital devices that hasn't been said already? We're huge fans of the iPod. All generations"¦except the one where the battery didn't last very long. Not cool apple, not cool.
Today, you can buy just about anything to accessorize your iPod; customized skins, shields, wallets, docks, clips, cables, speakers, earphones, sneakers and car products to name a few. You can find all the reviews of these accessories at CNET. Our data is showing that just under 3 million people are going to CNET a month. Of these browsers, 59% spend time in the review section. I recently visited CNET to research the iPod wallet. After hearing good things I then went to my new favorite iPod site, Dlo.com (Digital Lifestyle Outfitters) to make the purchase. Dlo.com is receiving about 5,000 people a month but is growing quickly.
iPod docking stations are becoming the new iPod accessory of the season. Personally I have the Altec Lansing InMotion and I would argue that this system is just as good as the Bose SoundDock at a fraction of the cost. In researching the different docking stations I came across this little number at atechflash.com. What do you think, will it stay afloat, or be flushed?